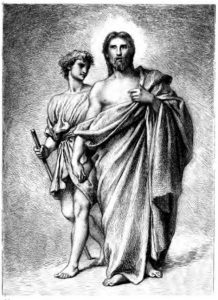 I was elated when I received permission from the Teacher of Righteousness to make an edition of Thomas à Kempis' Imitation of Christ specifically adapted for the Community. Certain terms have been rendered in Hebrew-Aramaic which is familiar to most of our brethren. I added paragraph numbers to facilitate referencing, and made other adaptations to the text necessary for our Spiritual Community.

You can download a sample draft, containing only the first book of four. When the project is complete, the entire printed edition will likely contain nearly 300 pages. It is my intention to publish the work in hard cover, soft cover and spiral bound. I hope to add a table of contents, a concise glossary and a section with useful references.
It is my hope that the brethren, clergy and laity, as well as the consecrated, find this adaptation useful in their regular devotions, but as with any work by man, I encourage the disciple to read it in light of the Three Pillars of our most holy faith.
Download the PDF here. Remember, this is a draft. I will be adding other features to the work, including the other three books. Check back here for updates.